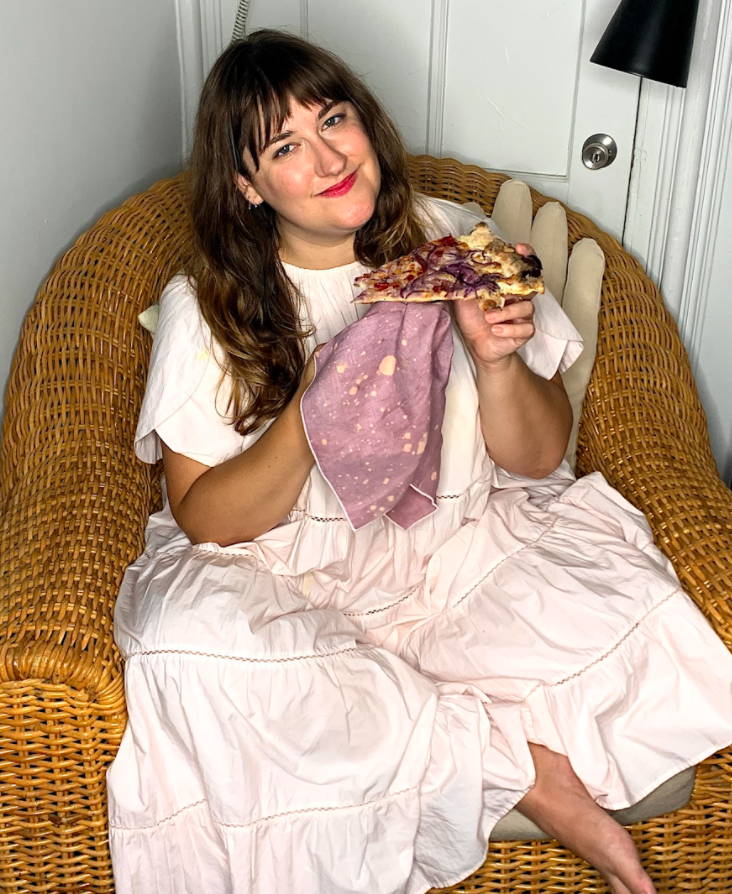 Name: Julie Vadnal @julievadnal
Vocation: Deputy Editor, Domino @dominomag
Current Coordinates: Carroll Gardens, Brooklyn
The one thing you always have on your dining table: Salt. Particularly Diamond Crystal Kosher. I keep it on the table in a little dish from Year & Day. And because my boyfriend, Paul Solis, usually ends up drawing our dinner guests, there's usually a portrait on the table by the end of the night, too.  
What do you love about entertaining? Firstly, it's my dream to have everyone come to me. I like showing off my cooking and table settings, but I particularly love that moment when dinner is over but you're still laughing and you can't tell if you're going to move onto dessert, have another cocktail, or what. You're just well fed, in the midst of telling fun stories, and riffing off one another. My ideal dinner party is the one that goes until 2 AM—even if I'm asleep on the couch while my guests continue to hang, which has definitely happened.
How do you love to set the table? I recently bought a very graphic, plaid tablecloth. I love mixing structured textiles with fun napkins and dishes, mixing different colors and patterns. I never want everything to match. I love candles, especially in neon colors. One of my current favorites is bright pink taper candles from Amazon. Any time I travel to another city, I pick up taper candles. I also have these wooden candlestick holders that my friend made, they feel so lived in with all the wax melted on the sides.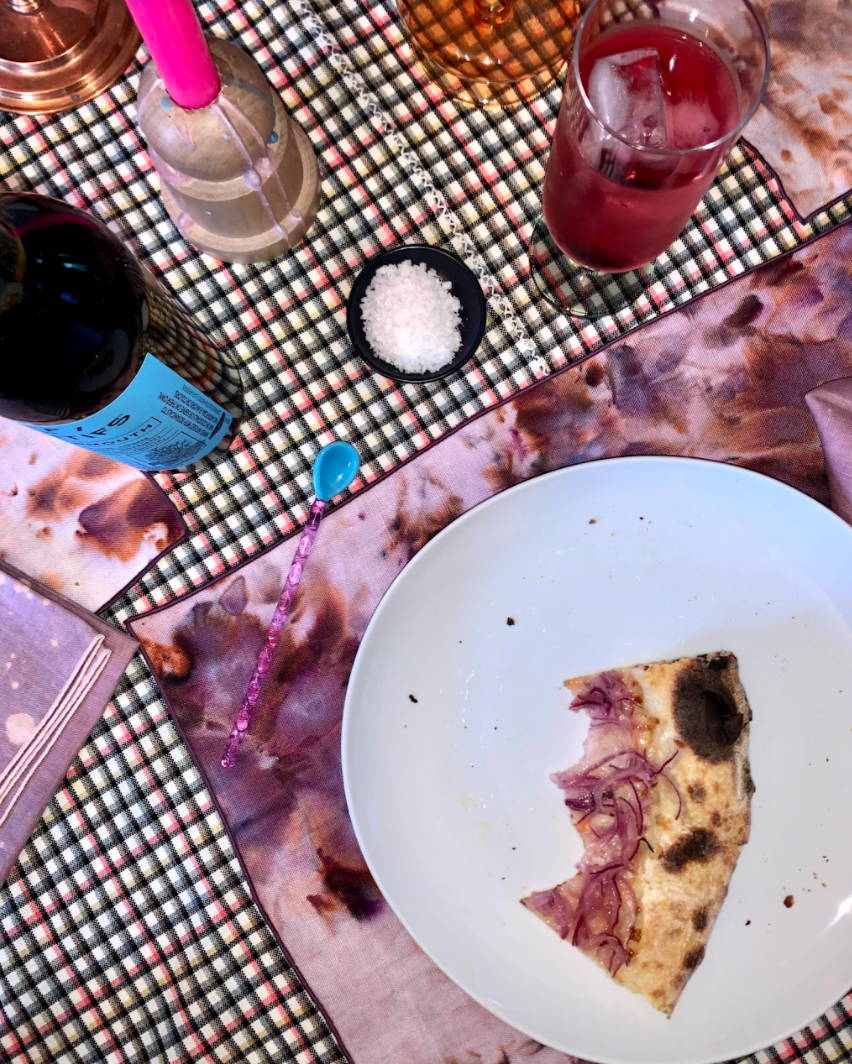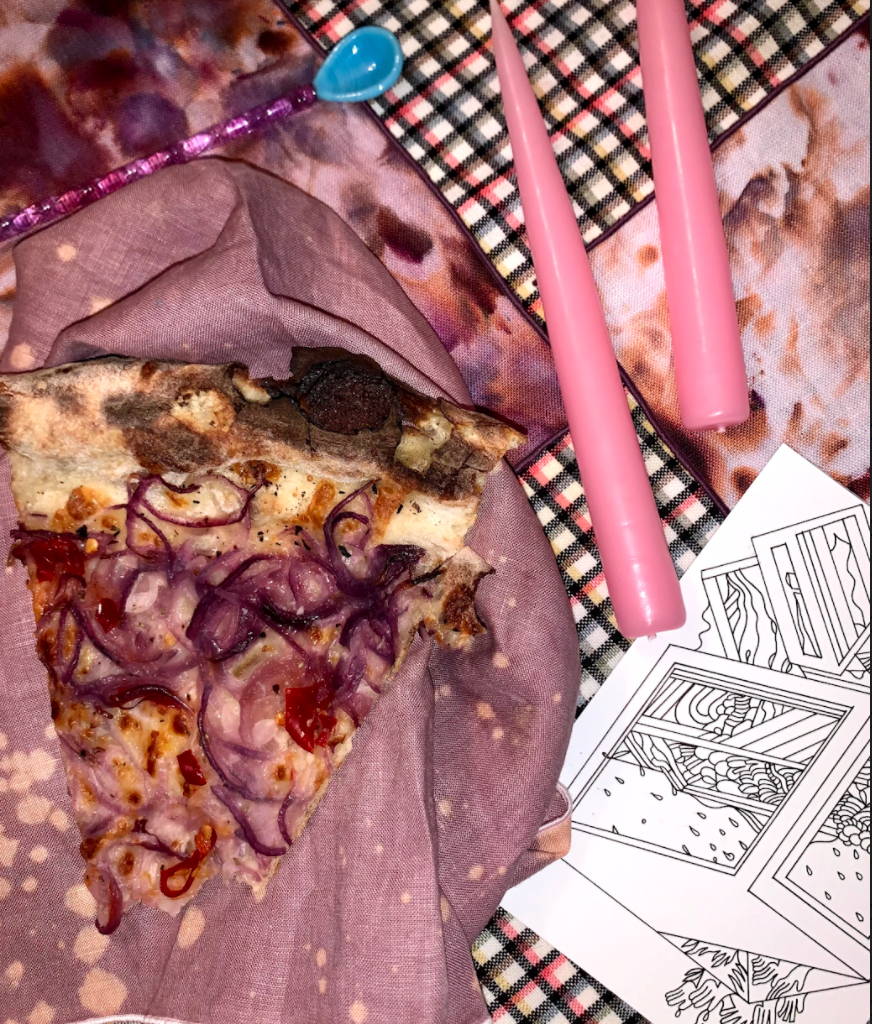 How would your friends describe you as a host:  It depends on the friend. I try to remember all the details about what everyone likes/doesn't like, so from the alcohol to the food, I make it very personal. Sometimes it drives me a bit crazy, but I want everyone to just feel really welcome. I'd call my style 'formally relaxed,' because I do put a lot of thought into it all—but I want to make it look easy. Because of that, I am also always ready for a party to happen. I am constantly thinking 'What if everyone just comes over now?'. I am always ready to party with the essentials, especially the cocktail.
Your go-to cocktail: I usually make an Old Fashioned. I use a recipe by Julia Turshen @turshen that has maple syrup in it. I make a batch before people arrive and just pour and drop a cherry in. However, I am also very into people making their own drinks.
Your go-to meal to serve: Currently, I am into making a grain salad with green olives with lemon and putting slow-roasted salmon on top. I am also really into make-your-own pizza nights, where I buy the dough and have guests bring their own toppings. For dessert, I really like putting cookie dough in a cast iron skillet and baking it like one big cookie cake. I put a lot of ice cream on the table as well. I am all about stuff that looks fancy, but is actually easy.  
Necessary accompaniment to a well set table:  Music. I usually put my boyfriend on Spotify duty. He's recently into Ethiopian jazz, and it always wins. It just puts people in a good mood.
If you're not entertaining, where do you love to go to have a great meal? In my neighborhood, at a place called Bar Bete. They have this amazing salad with fried onions on top. The service is lovely, the staff is kind. Everything feels special.
 Most memorable meal of late: The place where my boyfriend and I go to for special occasions is Olmsted on Vanderbilt in Prospect Heights. They have these incredible lobster crackers. The staff is friendly, not too formal, and for dessert you can make your own s'mores.
Current inspiration: Olivia Rodrigo's new album, SOAR. It's angsty and a little sad, but it revs me up. I also currently own more Commune mugs that I know what to do with, but I just love their colors and designs.
Favorite color combos: Pink + Red. Lavender + Red. Orange + Yellow. I cannot imagine ever living in a white, beige, and cream home.
Dream person to be at the table with: Michelle Obama. I love post-White House Michelle. Through her fashion, her book, and the things she said as of late, she seems so free and fun. A girl's night would be epic.
SHOP JULIE'S ESSENTIALS:
JULIE's GOLDIE HOME PICKS:
Pink Stargazer Cocktail Napkins