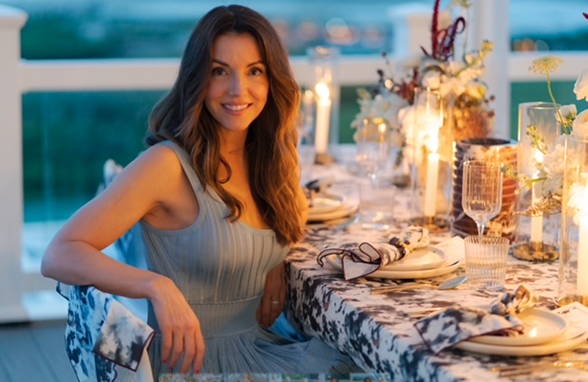 Current Coordinates:
Between Manhattan (Gramercy) and Long Island (Sands Point, NY).
Tell us in a few words why you chose to name your company High Low Hostess?
The way so many of us approach fashion, I tend to approach my table or event design the exact same: I love combining special, high-end pieces, with budget or lower-priced "finds." A dear friend, and frequent party guest, actually coined me the High-Low Hostess with this in mind. I also LOVE details; and if necessary, I am known to search "high and low" for just the right piece, whether that's a party favor, finishing touch, or anything in between.
Share a bit about your process on how you devise the beautiful tablescapes you do?
I always start with just ONE piece that inspires me, and that one piece is always enough to take me the rest of the way. Inspiration, of course, is everywhere! Sometimes I'm inspired by a specific table element, like a beautiful design from Goldie Home; maybe a flower that's in season (peony or dahlia seasons being two of my favorites); maybe a set of vintage plates, or just a unique napkin ring. But away from the table, fashion is a huge source of inspiration for me, as is travel! For instance, a floral Oscar de la Renta dress previously inspired every element on a spring table, including the centerpieces, the edible flowers on the dessert, and even the color of the specialty cocktail. Alternatively, after a trip to Greece, I was inspired by the beautiful olive groves, and subsequently decided to create a table with simply arranged olive branches down the length of the table - I let them take center stage, and of course, the rest fell into place.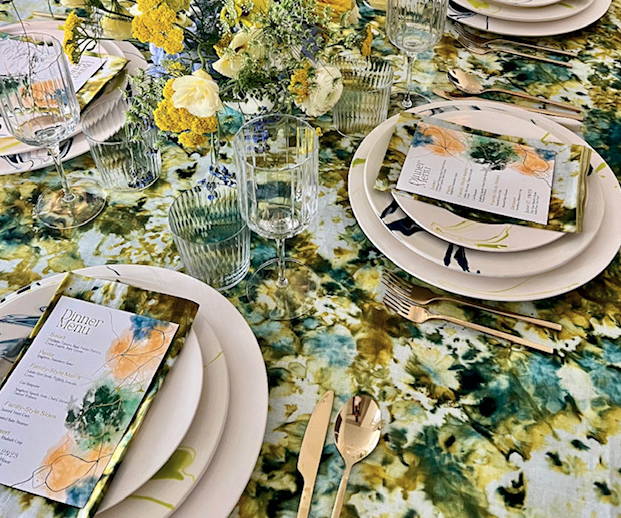 Can you share 1-2 of your secret weapons for setting a table?
When in doubt, a patterned tablecloth is a great starting point! They tend to be very forgiving with wrinkles or stains, and bonus: they are instant art. A pattern with several shades of color also means you have options for building up the rest of your tablescape. From the flowers to the flatware, you can take inspiration from the tones you get from the tablecloth. Along those lines, I also love a layered table. Taking a 15-inch charger and topping it with a 13-inch charger, for instance, is an easy way to create dimension and interest (it's also a great way to combine "high and low" budget items). Finally, centerpieces don't need to be intimidating. Even bodega flowers can be beautiful. Either stick with one color palette or create a deconstructed arrangement down the center of the table by placing each flower type in its own vessel and then strategically clustering them together. And if you don't have the time or budget for floral, a collection of white candles is both sophisticated and romantic.
The ONE thing you always have on your dining table:
There is some sort of centerpiece on my dining table 100% of the time, whether that's fresh flowers, bowls of fruit, or a cluster of candles. But for a "set table" with guests, I almost always have a printed menu at each place setting. I keep standard 4x6 and 5x7 card stock on-hand, and many times, I print simple menus at home. Guests appreciate knowing what's being served, particularly if they have allergies or aversions. It's a small detail that provides big impact.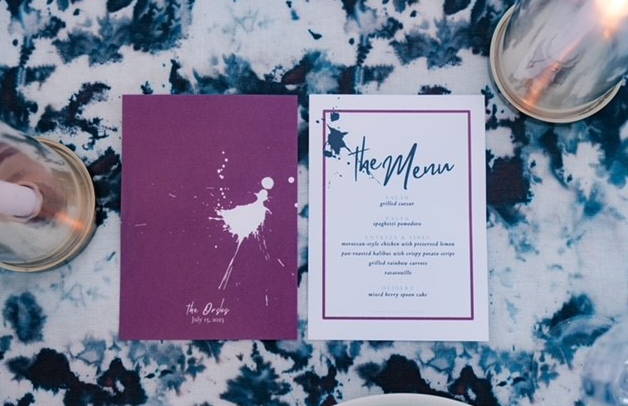 Your 'always go-to's for entertaining?
Variety! While the style of our homes (e.g. the furniture, fixtures, etc) is rather permanent, our dining tables are an area where we can constantly play. I let the season, occasion, and my mood dictate my style for each dinner party. And of course, in addition to combining high- and low- budget pieces, I am also known for using unexpected items - for instance, beautiful ribbons as napkin rings, produce as a centerpiece, and so on.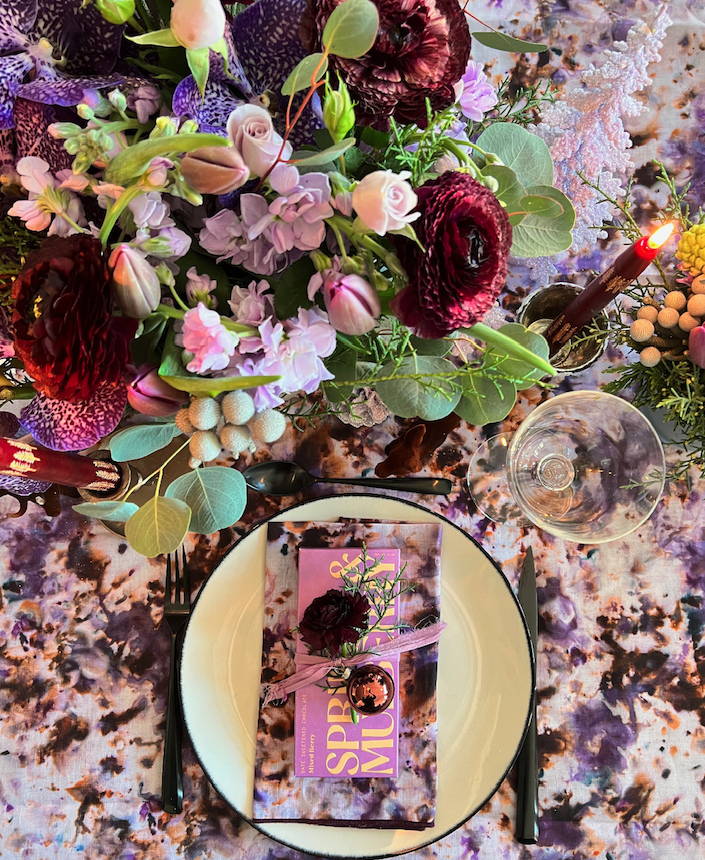 Favorte thing about throwing a dinner party.
Bringing people together. While my husband's motto is definitely "the more, the merrier," I enjoy trying to connect people. Additionally, I love the way people linger at a dinner party, over drinks, dessert, coffee, conversation, etc... No one lingers at a restaurant the way they will in your home.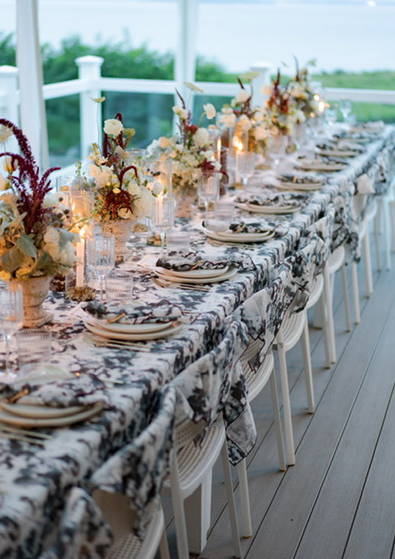 Music to play when friends are sipping drinks.
The Otis Redding station on Pandora is just the right tempo and mood for laid-back cocktails.
Signature Cocktail to serve:
Margaritas - particularly in warmer months. I pre-batch them in big pitchers and place them in the freezer. Because of the alcohol, they won't freeze solid, so they are perfectly slushy when served. I also like to include extra accoutrements on the bar (such as lime juice, jalapenos, club soda, and a bottle of tequila) for guests to "customize" their cocktail to their specific taste.
Always on the menu...
My husband is Italian - there is ALWAYS a pasta course!
Dream Dinner guest(s):
Hmmm.... Not so exotic or famous, but my cousins in Wisconsin are the best dinner guests! They are hilarious in any setting, all of them with infectious laughs, so they make everything more fun! They are also great listeners and love getting to know people - those are A-list guests in my book!
Colors currently obsessed with:
My forever favorite color palette is shades of plum, blush, and dark green - a bit earthy but still sophisticated.
Give us a sneak peak of some Tables up next...
1. A bright, circus-stripe style tablescape for a poolside family reunion
2. A feminine animal print tablescape in blush, beige, and aqua for a chic 30-year-old birthday dinner
3. A "Roman-Holiday" - inspired tablescape with lots of print and color for a gathering of childhood friends (all of them Italian)
You must follow @highlowhostess for all the inspiration and more.